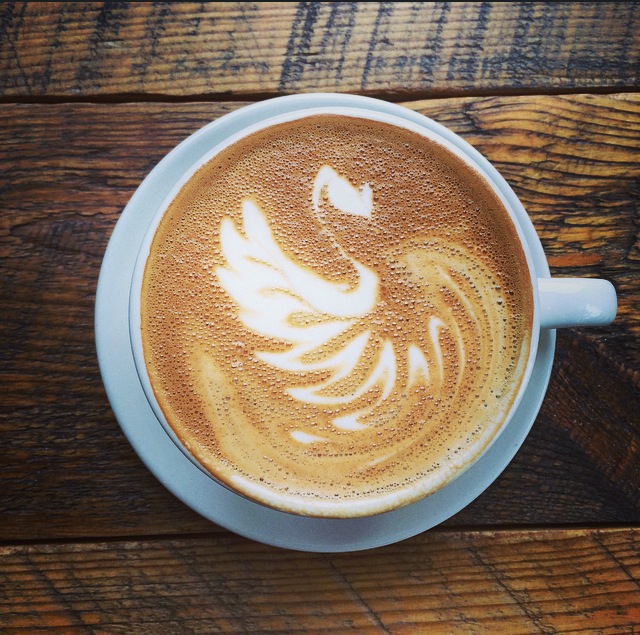 Tiny but mighty. Conversationally intimate and solitude-friendly, it's the introvert's coffee dream. Though the Dogwood company is known across Minneapolis for their best brews, the uptown coffee bar is perfect for good coffee and a moment with a friend, or with yourself. Though Dogwood's coffee may be plentiful across Minneapolis breakfast joints and other coffee shops, experiencing the original coffee bar is an experience all to itself.
Walking into Dogwood, a barista greets you at one of their three stations—one fitted for payment, two for preparation. When you order, whether it's a classic Chemex brewed coffee or a specialty drink made from Dogwood's wildly popular Neon Espresso, you'll most likely find yourself tacking a pastry on your bill. With an inviting glass case beneath your fingertips as you pay, the freshly baked goodies from Calhoun's Rustica Bakery demand the attention they deserve.
Dogwood is small, there's no doubt about it. With only three tables for two, a pair of comfy chairs and five seats at the bar, the place is perfect for catching up with an old friend or taking a morning for yourself. The size tends to draw in coffee soloists, rather than large throngs of cattery people, so a quiet, relaxed atmosphere is almost ensured. Additionally, Dogwood's entry-level industrial vibe is enough to make you notice the metal chairs and accent wall of posters, while still appreciating the coziness and inviting aesthetics.
If you're on the go, be sure to take a peek at the latte art filling your iconic, red cup. But if you're there to stay, Instagram away. Baristas brew with care, so take a minute to appreciate before sipping. The bar in particular appears already set up for a photo-shoot—the rustic wood of the table and the natural light from the window make a bad photo virtually impossible.
For the Dogwood superfans, iconic merchandise and apparel are also available. And if you're a hardcore fan and want to bring a piece of Dogwood home with you, burlap coffee sacks are sometimes available at their Northeast warehouse.
When it comes down to it, Dogwood's bold flavors complements the modern aesthetic and the satisfaction is reliable. Dogwood is a place where the atmosphere matches what they serve. Simply, Dogwood is inviting, respectable, effortless.
Location: 3001 Hennepin Avenue South
Hours: Mon-Fri 7AM-9PM , SAT 8AM-9PM, SUN 9AM-6PM
Brewing Since: 2010
What I Had: A traditional 16 oz. latte
Where I Sat: At the end of the bar, perfect for people-watching in Dogwood and on Hennepin Avenue
What's Next: Toarco Peaberry Brew